httpie/httpie
HTTPie
Czech Republic
Prague
2020
6.5
Python
22,286
3,685
4,660,323
26
46,603.2
0.3
warpdotdev/warp
Warp
USA
New York
2020
23.0
6,548
97
56,216
107,944
562.2
1,079.4
dagger/dagger
Dagger
USA
San Francisco
2018
30.0
CUE
5,571
294
22,957
104,046
229.6
1,040.5
hpcaitech/colossalai
HPC-AI Tech
Singapore
Singapore
2021
4.7
Python
4,029
417
3,543
2,342
35.4
23.4
mosaicml/composer
MosaicML
USA
San Francisco
2020
37.0
Python
2,206
119
1,798
3,413
18.0
34.1
multiprocessio/datastation
Multiprocess Labs
USA
New York
2021
TypeScript
2,340
76
925
882
9.3
8.8
builderio/qwik
Builder
USA
San Francisco
2018
17.3
TypeScript
4,441
161
714
886
7.1
8.9
firezone/firezone
Firezone
USA
Mountain View
2021
Elixir
2,320
84
530
640
5.3
6.4
themesberg/flowbite
Themesberg
Romania
Timisoara
2019
HTML
1,937
177
496
1,166
5.0
11.7
qdrant/qdrant
Qdrant
Germany
Berlin
2021
2.3
Rust
1,935
101
464
197
4.6
2.0
livekit/livekit
LiveKit
USA
San Francisco
2021
7.0
Go
3,556
235
456
250
4.6
2.5
nuxt/framework
NuxtLabs
France
Bordeaux
2017
2.0
TypeScript
7,792
652
412
359
4.1
3.6
nhost/nhost
Nhost
Sweden
Stockholm
2019
3.1
TypeScript
3,121
170
408
495
4.1
5.0
getumbrel/umbrel
Umbrel
India
2020
3.0
HTML
2,462
340
405
156
4.1
1.6
safing/portmaster
Safing
Austria
Baden
2017
Go
3,613
118
392
375
3.9
3.8
up9inc/mizu
Up9 Inc.
USA
Palo Alto
2019
Go
3,685
138
390
199
3.9
2.0
raycast/extensions
Raycast
UK
London
2020
17.6
TypeScript
1,837
648
387
459
3.9
4.6
quickwit-oss/quickwit
Quickwit
USA
San Francisco
2020
2.6
Rust
2,019
103
378
461
3.8
4.6
voxel51/fiftyone
Voxel51
USA
Ann Arbor
2018
3.3
Python
1,678
188
360
128
3.6
1.3
pipedreamhq/pipedream
Pipedream
USA
San Francisco
2019
22.0
JavaScript
3,617
2,188
349
400
3.5
4.0
HTTPie
,
Warp
and
Dagger
repos have enormous annualised growth rate of Github stars. Therefore, their values are over the top in the chart below.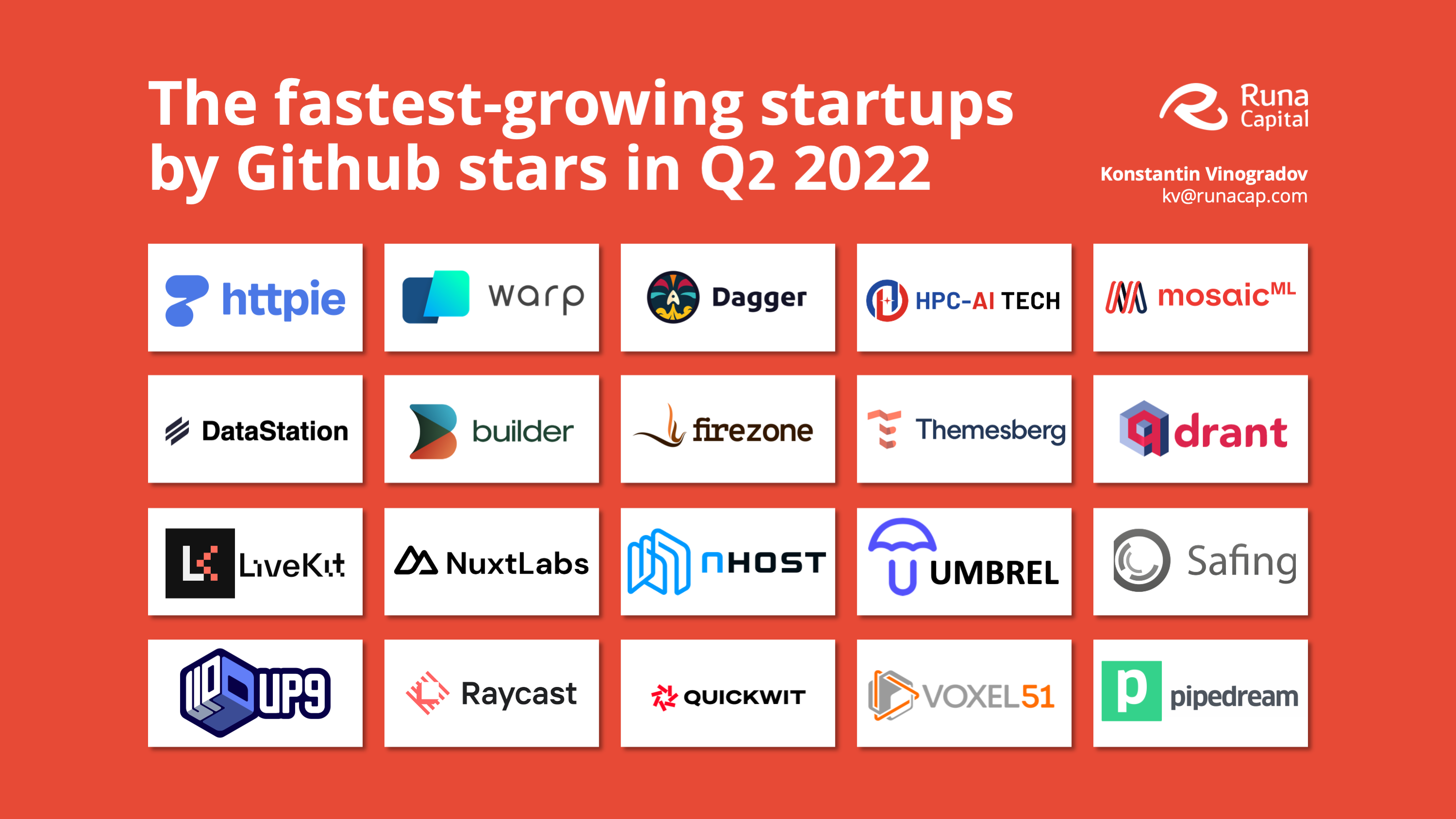 Anyone with a featuring on ROSS Index Q2 2022 can add the badge to their own website to let site visitors know they are one of the fastest-growing open-source startups.
Visit ROSS Index to see the recent top-20 open-source startups.